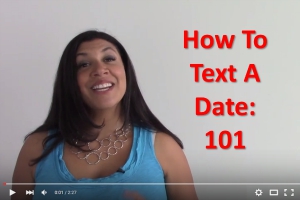 Texting and sending messages are a huge part of dating today. You have to know how to get it right so that you aren't coming on too strong or being too playful and ultimately not being taken seriously. Texting can be a tricky thing! Even though it's so common now (as opposed to 11 years ago when I met my husband…yikes!) there is STILL no substitute for face to face conversation. Communication is much clearer face to face. You are able to get full context and gauge reactions much more quickly.
Now, I know that face to face is not always an option. A while ago I did a video on this very topic. It's geared toward the ladies, but the tips are pretty universal. So, take a look and in the meantime, follow these 3 simple tips to make sure that your text messages don't cause you problems before you and your mate get started:
1. Texting is for information not conversation
This is where I see so many people get tripped up you don't need to have a whole conversation about your life over text. It's not actually building a rapport with him. Your whole job is to get to the first date and then get to the second date and make them see you in person. You don't want to say everything over text. We tend to have fewer inhibitions on text than we do in person. So, the person on text may build a persona that is not exactly like the person you'll meet in real life.
2. Don't get cute
You think you're being cute and using emojis and too many abbreviations like LOL and all of the others that aren't actual words. You may cause your date to actually think that you're immature. Control the tone of your text. You don't want to ruin the date before you actually get to it. So, just keep it really simple and control the tone in those first texts.
3. Never, ever under any at circumstances do you need to "sext"
You've got to be really, really careful with photos, because there is actually information that's embedded in your photo about you and where you in the picture that you're texting somebody, which is just a safety hazard. If you are looking for a serious relationship, you definitely do not want to sext. And if for some reason you still do sext, which again I do not recommend, don't have a face in it because then everybody can see who you are and see your goodies. It's just a bad idea.
If you'd like to know more about what I like to call The Texting Trap, join me Wednesday, August 12 for the FREE webinar. We'll be talking about these things and so much more. It's going to be a great time! Spots are limited, so RESERVE YOUR SEAT TODAY!