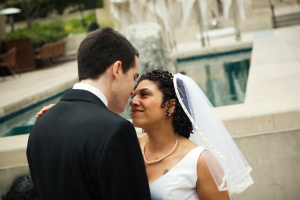 10 years ago this week, my life changed forever when I met The One. Having gone out like gangbusters on one of the large dating sites I was disappointed with my experience on a smaller niche site. I did everything perfectly. I had great photos that told my story, I had a witty profile and a catchy username and I sent short, clever messages to every man I thought had potential. My inbox did not fill up on this site as it had on the others I'd tried. In fact, it was completely empty. Not like, "I wasn't interested in any of the guys who wrote me" empty. Like legitimately and completely empty.
I gave it another couple of weeks and then when my credit ran out I was going to sign offline. Then I got a message. Not just a message from a guy that I thought was ok. I got a message from THE GUY I had been waiting for.
I had rules, I had a system, but when I saw this guy's profile I said immediately, "when can I meet you." Four days later we shared our first drink. I didn't play it 'cool' as women are accustomed to doing today. I didn't play games. And I most certainly did not text him since that didn't really exist in those days (although I must admit I might have if I met him today.)
And you know what? The first date was ok. I was attracted to him but I wasn't planning our future in my head (which I admit had happened before.) But he was interesting. There was something different about him and I had to know more.
People always ask me "did you know on the first date that he was The One."' Of course I didn't. Anyone who says that is just applying a retroactive filter on their life. Because I could tell you of at least 5 other guys who I knew were The One who never called me again. All I knew at the end of the first date was that he was interesting enough to see a second time and a second date turned into a third. By that point I was totally smitten.
Real chemistry is not about instant attraction. That is something else called lust. Real chemistry is something that develops over time and The One is someone who can grow with you and to whom you'll become even more attracted with each passing day.
Are you still looking for your 'The One'? Now is the time to break the habits that are keeping you in your single life. Discover a new perspective and tools in the next exclusive Kickstart Love session.