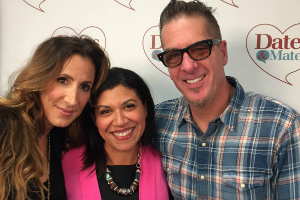 We had a great show this week on Dates & Mates. Special guests Greg Behrendt & Amiira Ruotola-Behrendt joined us in the studio to talk about their upcoming new book, How to Keep Your Marriage From Sucking, Those Sex In The City fans might remember Greg best from his previous New York Time bestseller He's Just Not That Into You,  which he co-authored after a Sex In The City episode sparked the concept for the book. And now, he and his wife Amiira are about to share important insight into how to avoid letting your marriage (and long term relationships) turn for the worse in How to Keep Your Marriage From Sucking, a much-anticipated follow-up to It's Just a Date: How to Get 'em, How to Read 'em, and How to Rock 'em and It's Called a Breakup Because It's Broken: The Smart Girl's Break-Up Buddy.
In addition to the great interview with Greg and Amiira, we covered some big topics in the media, including:
Prince Harry's revelation about his dating "rules"
Sharon and Ozzy Osbourne's separation announcement after 33 years of marriage
A recent study that shows that virginity might count against you
We also had some time to tackle some great listener Q&A, including:
"I'm dating this guy I really like, but he's always distracted by phones and social media. How do I get him to pay attention?"
"I'm guilty of the breakup that leaves an ex thinking there's a glimmer of hope because I'm 'toonice'. What's the best way to make sure a breakup is unquestionably final without destroying them?"
Check out the full episode HERE for all the great details and discover some great relationship and dating advice!