If the holiday, often regarded as "Singles Awareness Day," has left you feeling S.A.D. for yourself here are some ways to secure a last minute Valentine or rejoice in your singlehood this year.
It's not too late! If you want to get a date fast…
Grab an App – Mobile dating (meaning using dating apps/sites on your phone) was up 40% in 2015. The biggest difference between apps and traditional sites is that the speed is faster. Time to set up a profile is shorter, communication happens faster, you get offline more quickly. Using an app like Happn allows you to connect with people in your immediate area and make a quicker connection offline.
Go to a Meet Up or Mixer – Instead of moping about your singlehood, let it propel you towards saying yes to things you'd otherwise pass up – like a Valentine's Day singles event. Use my top flirting tips like eye contact, casual touch, and smiling to make a connection once you're there.
If you're going to be spending Valentine's Day single take comfort in:
Saving Your Money
Restaurants all double their prices on Valentine's Day knowing that poor romantics will pay the price. Rejoice in the fact that the money you'll save on February 14th could be enough for two dates down the road.
Watching Your Waistline
The #1 New Year's resolution is to lose weight. However, by this time of the year, it's also one of the most broken resolutions. Without the pressure to eat the Valentine's Day candies and chocolates, you can stick to your plan, save your waistline and be beach ready by Spring.
Connecting With Friends
The most memorable Valentine's Days I spent single were enjoyed in the company of good friends. Get a group of singles together if you're not celebrating with a date this weekend and celebrate your friendship and yourselves. Celebrate this Galentine's Day by seeing the new movie How to Be Single – opening today!
WIN 2 TICKETS TO SEE HOW TO BE SINGLE
INSERT SHOW POSTER IMAGE
Here's how to enter the DAMONA HOFFMAN "HOW TO BE SINGLE" GIVEAWAY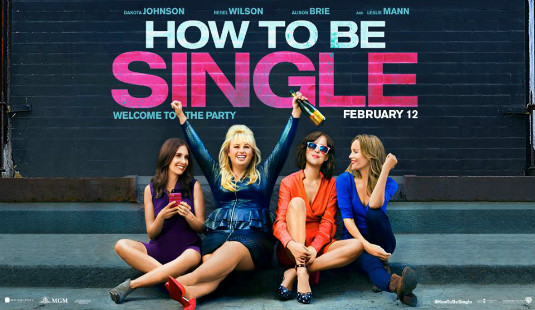 STEP 1: Follow @DamonaHoffman on Twitter
STEP 2: Tweet Damona the name of your favorite dating site or app.
Your tweet MUST INCLUDE:
-A Hashtag with the name of the dating app
– Hashtags #HowToBeSingle #Giveaway
– The Twitter handle @Damona Hoffman
EXAMPLE: #HowToBeSingle #Giveaway @DamonaHoffman I'm on #Tinder
***The winner will be randomly chosen among US residents who enter between February 12th, , 2016 at 8 a.m. and February 15th, 2016 at 11:59 p.m.  Tickets will be delivered via USPS 1st class mail and are valid through March 10th 2016 at participating theaters in the United States only.****