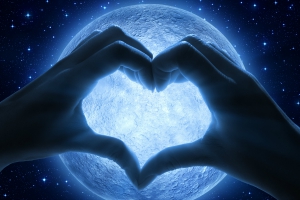 Tonight's a blue moon, and many believe that on the night of a blue moon you should take a risk and do something new that you wouldn't normally do. It is said that the definition of insanity is doing the same thing over and over again and expecting different results. If being single is making you a little crazy, you have to see where in your life you've been making the same insane choices.
The top three crazy statements that I always hear from women are:
HE JUST DOESN'T HAVE EVERYTHING I'M LOOKING FOR – Your mate is a person, not a checklist. In online dating it sometimes feels like your options are infinite, making it easy to discount someone early on because they are not exactly what you want. If they embody half of the qualities you are looking for, give them a shot. The other half might be even better than what you think you need.
IT'S NOT GOING ANYWHERE…BUT HE'S A GREAT GUY – These two things have nothing to do with one another.  If you are looking for a serious relationship and you have conveyed that (after a reasonable length of time together) things need to be progressing and nothing happens, then you're just wasting one another's time (and quite possible fertility.) He can be a great guy, but maybe not be a great guy for you.
THERE ARE NO GOOD GUYS OUT THERE – If you repeat a mantra enough in your head or to your friends, it will become fact for you. Every time that negative thought comes to mind, instead try talking or thinking about the person you want to meet. Your positive thoughts could change your perception, potentially helping to bring that person into your life more quickly.
Even in my own dating experience, I made myself crazy. I was in a pattern of dating bad boys.  There were musicians who juggled me with other girls when we all showed up to their show at the same time, handsome actors who coveted my professional connections more than my personality, and class clowns who needed to be at the center of attention at all times. One day I had an epiphany. I was dating the same type of guy and it really wasn't serving me very well.  I kept getting frustrated with these guys who thought this was an acceptable way to treat a lady, but the reality was that I was accepting them and that treatment. I continued to be interested in guys like this because it felt more familiar. That's when I realized that if you want to be treated like a lady, you should date a gentleman.
As a result of my "doing something different" I ended up finding my husband, who is the nice guy to beat all nice guys! So, take this rare occasion to do something different in your life. How will you take advantage of tonight's blue moon?
Still stuck with online dating? Let me lead you through creating the perfect profile, getting your flirt back, and dressing for the date in my video course The Dating Site Seduction System.