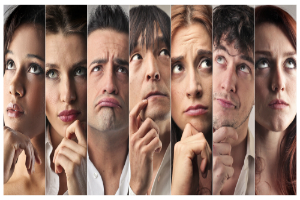 As on online dating expert, I'm often told that it's harder to find a date online because people are far pickier when searching out a potential date or mate and often rule the majority out before giving them an honest chance. While it might seem logical to some, I can assure you that this is not the case. There's many reasons that actually speak against that line of thought. Here's some examples:
Online Dating is Like Internet Shopping—If you're looking for a specific pair of shoes online you already have in mind the shape, color, and style you want so you know what to search for. But every once in a while you'll run across a cute pair of shoes you didn't even know existed, and all from searching from the one idea of what you wanted to begin with. The same thing can be said about online dating. While daters might think they have a specific mold people need to fit into, once in a while a nice surprise pops up and changes their wants.
"Too Many" is a High-Class Problem—People who worry about having TOO many options are few and far between, especially when it comes to dating. Not everyone will be a perfect match and not everyone will be a bust. Dating takes time to find someone who gels with you and finding that right person is not something to be taken lightly. If you have too many options while online dating then it might be you're not asking yourself what's important to you, more so than how many free dinners you can fit into one week.
The Fox in Sheep's Clothing—Often men who online date only message women out of their league, only to wind up single on another Saturday night. But this trait isn't about being picky, it's about setting unrealistic goals. Online dating isn't about aesthetics, as new dating app Twine (the profile only site, no photos) are beginning to showcase.
Coins in the Fountain—Like tossing a penny in a fountain or chatting up everyone at the bar, sending out messages online are basically a one-second release into the ether of finding your match. If you message more than you receive, you'll end up meeting more people which opens up your lines of communication and networking in the single world all around. The more you put it out there, the more return you'll see. It's not being picky, it's playing strategically.
Love Don't Cost a Thang, But Dating Sites Should—Free online dating sites like OKCupid are more regulated to hookups than any of the paid sites are. Though times are fast changing with that way of thinking, it is true that when you put money into your love career, you find like-minded people who are also putting an investment in their future partner. While love connections have definitely been made on OKCupid, the highest number of marriages have been found on the paid sites like Match and eHarmony.
All in all online dating still has a stigma attached to it and in this day and age of shopping online, Uber cars, and everything else app-a-licious finding a life partner (or at least a Friday night date) can be done with just a flick of your finger as well!
If you need a fellow naysayer of online dating to change your mind about the whole process, READ HERE!