My yoga studio is doing a social campaign to get you to do one thing better (check it out here on Facebook.)  It's about making a commitment to yourself to just done one small thing better each day.  Who can't do just one thing?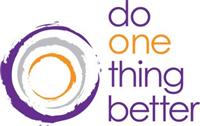 I find that sometimes clients get stuck in a dating rut and end up repeating the same patterns in a relationships and then ask, "why does this keep happening to me?"  The response is usually, "Well, what did you do differently in this relationship?" It's easy to look externally and say something keeps happening to you but when you stop to look at your own actions it often becomes clear that it's not about something outside you constantly reappearing in your life. It's about the choices you make generating the same outcome. 
I wrote an article in my JDate column a few months back on "The Definition of Insanity" foc
used around changing your dating behaviors and actions but now I'm talking about internal changes.  What do you think about yourself that impacts relationships?
I'm not pretty
I'm not funny
I'm too short
I am really picky
I think I'm destined to be single
I have to find someone as active as I am
I have to find someone who also loves to read like me
I would never date a smoker
I would never date someone who has dogs
I would never date someone who lived on the other side of town
Think about whatever is your mantra that helps you cope with singlehood.  Then ask yourself, what if it wasn't true? 
If you thought, "of course it's true," now think about one thing you could do to change it and do that one thing.