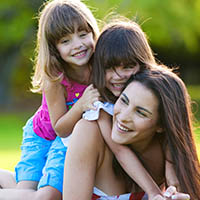 As a dating coach in Los Angeles where the divorce rate dwarfs the national average at a whopping 75%, many of my clients come to me with complicated relationship histories.
Dating after divorce is one thing. Dating with kids after a divorce is a whole other story.
When and how should you tell your new squeeze that there's someone else in the picture…your kids?
Here are the top 4 questions that arise when you're dating with kids:
1. Should You Put Your Kids in Your Profile?
Pro: It's honest.
Con: It can be a turnoff.
Your kids are your number 1 priority, but should you share that in your profile? Yes and no. You definitely want to say that you have kids in the short answers but photos and essays about your kids do not belong in a profile. The other members are trying to see you as a romantic partner so if you're only talking about how all you do is chauffeur them around to lessons and practices, you won't sound very sexy.
You need to be the star of your profile. It's a given that you love your children but this is your time to shine.
2. Do You Talk About Your Kids on Your First Date?
Pro: What else do you have to talk about?
Con: Are they dating you or your kid?
Mention your kids on a first date? Definitely. Talk about them the entire time? Definitely not. If you have no other hobbies aside from being with your children, you're not going to have a lot to offer in a relationship. Make sure you practice before your date. If you've been off the market for a while, your flirting and communication skills could be a little rusty.
The more you prepare, the less likely you will fall into the trap of talking about your ex or your kids the entire time.

Read the entire article HERE