I have a confession to make. I'm addicted to something. It started when I was a teenager and I just couldn't stop. I went off of it for a few years but then curiosity got the best of me and I slipped up one time and couldn't stop.  I am addicted to MTV's The Real World.  I remember watching it as a teen and thinking that Eric Nies and Heather B. seemed so mature and worldly. Through the years I kept getting older and they kept staying the same age.  So now I'm more than 10 years older than the oldest cast member, yet I still love vicariously re-living my 20s through them – well a fictionalized version of my 20s.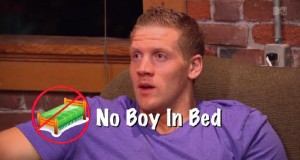 Through The Real World, I have observed the evolution of courtship and watched attitudes shift towards gays, lesbians, and New Jersey sluts alike. Usually I spend the episodes shaking my head in disgust at the lack of self-worth that the ladies on the show now have. Last week's episode, however, really struck a nerve with me.  Southern Belle Jessica has been hitting it off with a 7' tall local that the roommates affectionately refer to as Paul Bunyan. After a night of much drinking and debauchery, the roommates stumble home (some things about the show never change) and Paul Bunyan is in no shape to drive. So Miss Southern Hospitality, Jessica, offers him the couch to sleep on.  This act of kindness if followed by a barrage of insults from her roommates about how inconsiderate she is to not let him stay in her bed.  "Show the guy some respect", one roommate exclaims as if the excessive number of shots he took at the bar should turn her on.
I'm not a prude – in fact, for many online dating experts, I'm very forward thinking about sex and gender roles, but this made me concerned for the young ladies of 2013.  To be ridiculed and blasted for NOT letting a guy sleep in your bed is a total reversal from the rules in my single days.  Used to be that if you let a guy sleep with you (and you know they wouldn't end up just sleeping) that you'd be labeled as a slut.  But now, if you don't open up your bed to someone you barely know, apparently you're a heartless bitch.
Ladies, we need to reclaim our self-respect! You don't have to do anything with a man that you don't want to do and the reality is that if you do sleep with a guy too early on, he's more likely to lose interest than if you wait to get to know one another and make that first time together really special.  I commend Jessica for not giving into peer pressure or temptation. When she gets to be my age (which apparently is very old) she will look back on this defining moment and pat herself on the back. I shudder to think what will be expected of women by then. You get treated the way you think you deserve so if we feel like we deserve better, we can turn back the horny hands of time.