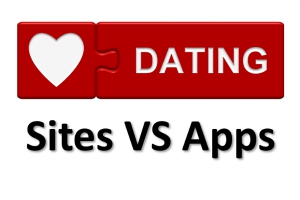 In my over 10 years of coaching singles on online dating, virtually nothing about digital dating changed for a decade until Tinder came along. Tinder did wonders for normalizing online dating and forced traditional dating sites to catch up with the speed of technology. But is Tinder right for you? Here's the low-down on dating apps vs. dating sites so you can choose the best fit for your love life.
The Biggest Difference Between Dating Sites and Dating Apps
Just to clarify, most dating sites also offer a dating app version of their site. Sometimes access to their app is included in your regular membership, sometimes they have a free app version, and sometimes you pay for only mobile access while you cannot access the desktop features without an additional fee.
On the flip side, most dating apps are free. Apps tend to make their money based on advertisements or in-app purchases (charging you for coins to access additional features or to send a priority message or virtual gift to a crush.) Tinder has had tremendous success with their new Tinder Plus option. For a nominal fee it gives you the ability to search outside of your immediate area and to rewind and redo a past swipe.
Who You Will Meet on Dating Sites vs. Dating Apps
Many people ask me if there is a difference in the quality of matches you will meet on dating sites. In general, the rule I mention in my book "Spin Your Web: How to Brand Yourself for Successful Online Dating" still applies: You get what you pay for. If someone makes a monetary investment, they are more likely to be making an investment of time and emotion as well. Especially considering the average cost of dating sites has nearly doubled in the last 10 years and the options for free dating sites have increased exponentially, the divide between the serious paying daters and free dating surfers has widened.
Does that mean that every person you meet on Match.com is going to be looking for a relationship? Absolutely not. Does it mean you will never meet someone serious on Tinder? Absolutely not. However, statistically speaking, you are more likely to meet a hook-up on a dating app because the barrier for entry and investment is low.
The reality is that most of the people you meet on a dating site may also dabble on dating apps as well; however, their mindset on the dating app is usually more geared towards casual dating than towards a serious relationship while they are on the app. There are many people who use dating apps who would never pay for a dating site though and those are the ones you have to watch out for if you're looking for a real relationship.
What's Amazing About Dating Apps
The best part about dating apps is that they are easy to use. You can sign in with Facebook, choose a handful of photos, write a couple sentences and be off to your first date within hours. On the contrary, it will take you hours if not days to set up your profile on most dating sites. eHarmony requires you to fill out a personality profile with hundreds of questions just to see if there are any matches for you or not.
The other benefit of dating apps is that they have been able to skirt the stigma that dating sites have of being for the lonely and desperate. Dating apps are used out in the world while you're living your amazing, adventurous life. It's seen as just another thing for cool, outgoing people to do to meet other cool, outgoing people. Therefore, you will see hot, interesting faces on dating apps who wouldn't be caught dead on a traditional dating site.
Most dating apps require you to sign in through a social media platform like Facebook and the trend for dating apps is to use your real name rather than a username that you invent. Authenticity is valued over creating an online dating identity for yourself as you would on a traditional dating site. The other benefit of connecting via social media is that you can see if you share friends in common and do an informal background check before you choose to meet offline.
What's Amazing About Dating Sites?
As an online dating success story myself, and someone who has shepherded countless singles into online dating matches, I firmly believe that online dating is the best bang for your buck in love. If your social circle is set and your leisure time is limited, as it is for most modern adults, online dating presents an amazing opportunity to date in the little free time you have left and to connect with like-minded singles.
Dating sites have more complex search features that would be cumbersome to use on a mobile phone but allow you different ways of finding better matches who share your interests and values.
What's the Worst About Dating Apps?
Dating apps often have very simple interfaces that allow for easy mobile use but make it hard to find someone based on more than physical attraction and first perception of their photos.
Also, because many apps use location as a way to select matches, it is possible on some apps for unsavory people to identify your whereabouts so you have to be more vigilant about online dating safety when using them.
What's the Worst About Dating Sites?
With so many options and so many match features, it's easy to get overwhelmed on a dating site. To avoid burnout, I recommend taking breaks every 3-6 months to refocus and refresh.
Which Should You Choose?
If you are a relationship-minded single who likes to have options and control your own destiny, dating sites are the best match for you.
If you are a single who values flexibility and is more interested in having fun and meeting lots of people than settling down, dating apps are your best bet.
If you are someone who wants to ramp up your dating life like never before, you should try a dating site and a dating app simultaneously. It can never hurt to expand your options and with so much new technology at our fingertips there has never been a better time to be single.
Want to know how to blaze past the other online dating competition? Get a juicy sneak peek at one of my Dating Site Seduction System videos and find out how to modify your profile to get more messages immediately. CLICK HERE to access for free.