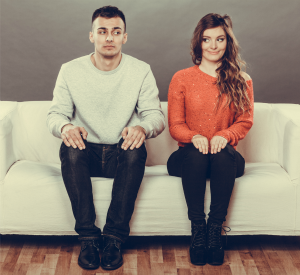 Did you get a chance to listen to my radio show Dates & Mates this past Wednesday? We're back from hiatus and getting right down to business. This week we had author and body language expert, Hootie, in studio with us talking about his new book Body Talk, which is a definitive guide to body language for men.
Did you know that only 7% of your conversation is conveyed through verbal content?  38% is your tone of voice, but the biggest chunk, 55% of communication, comes from your body language.
Did you know that you can change your entire state of mind by changing your posture?
Did you know that if a woman touches the side of her neck, it can mean that she's uncomfortable, but if she touches the front of her neck and chest, she could totally be into you?
We talked about this and so much more! If you'd like to hear what else we talked about, you can listen the whole show for free here.
We are live every Wednesday at 11am PST on UBNRadio.com Tune in and tweet me live @DamonaHoffman, and I'll see if I can answer some of your questions live on the air.
Next week we will have, Monet Bell, one of the participants from my new TV show, #BlackLove in studio with us. So, don't miss the premiere of the show on Tuesday night, so you can chime in with us on Wednesday!
XOXO,