Some pregnant women want their husbands to bring home ice cream. Others want to be pampered and coddled. I like those things too but you can imagine my husband's surprise when I called him at work and said, "Let's get tickets to see Erykah Badu on Sunday." There was a short pause and then an emphatic, "O.K."
Now you have to know this concert took place just three days from my due date. You also have to know that my husband hates concerts. I dragged him to a show on our third date (the one when I really and truly fell for him) and he pretended to be really into the music and the scene when I now know that he was only really into me. Yet, when your nine-months-pregnant wife asks for something, the only reasonable answer is, "O.K."
Even though I'm moments from motherhood, I had to feel the energy of the crowd. I craved the bass pumping through my toes. I needed to sing at the top of my lungs. I had to dance like no one was watching. What was the worst thing that would happen? Yes, my water could break, but wouldn't that make a great story to tell her about her birth?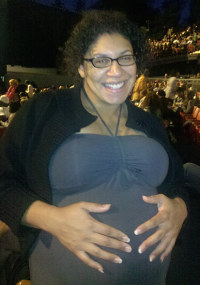 Well, my water didn't break and in spite of dodging a contact-high, having to pee in between numbers, and watching my husband dissolve into his Droid phone in the last 20 minutes of the show, I had the time of my life. And I did sing, and I did dance, and I did feel like in that moment, Erykah was performing just for me.
I've loaded my iPod with Baduism, Mama's Gun, and New Amerykah parts 1 and 2 so that when things get tough in that labor room, I will have the soulful lilt of my favorite singing goddess to carry me through. I will picture myself and my baby under the stars, enveloped by the lights of the stage, dipping and swaying with Ms. Badu. And then I'll probably scream at the top of my lungs again. And that will truly be the time of my life.