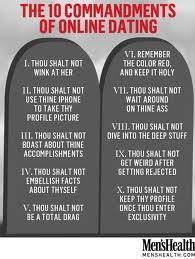 As a colleague, producer and partner to Dear Mrs D and Dear Mrs D Inc., I have learned a lot about online dating—and dating in general—to say the least. Having never gone online or written a profile for myself, Damona asked me to take part in a research experiment regarding the state of online dating, how sites have changed and whether it really as hard to meet someone online as most people say it is.
First off, about me: Currently I'm not really looking to be in a relationship. I'm one of those "if it happens, it happens" people. I'm also one of those non-social media people, so re-training my brain to keep up on any kind of social site has already given me anxiety.
Damona is one of the best dating coaches I've seen and I've seen her in action often. From turning potential go-nowhere clients into huge dating potential possibilities, Damona has turned the many the love live around with her excellent advice and tough-as-nails tactics about dating like it's your job. And it's a hard job at that, but if you want to be in a relationship, someone's got to do it—and, sadly, most people who really seek out love don't put in the time and effort to find it. So that's where Dear Mrs D comes in. And where she started with me.
Before setting me up on Match.com, we discussed what's important to me such as my hobbies, my values, my interests and my goals. This not only helped her write my profile, but also come up with my user name. Which apparently matters. We came up with something to reflect how positive of a person I am. I turned over a few of my most interesting photos including Halloween costumes past and camping pictures from my tent (a.k.a) the back of a car and a more serious-looking photo to show my calmer (?) side….if there is one.
She asked me a few questions, ticked off a few boxes and voila! Profile complete. And then came the emails. They just came flooding in! In the first hour of posting my first-ever profile I had over 10 winks, likes and messages. With the unexpected prospect of one British fella across town. Never having done this before, my palms started to sweat and my head spin with the over-stimulation of having to now talk to these people and possibly (gulp!) meet a few for a drink—but no more than two according to Dear Mrs D!
Instead of putting the cart before the horse and freaking out about people I haven't met., Dear Mrs D put my tensions at ease. As she puts it, my personality is all over my profile so I need not be worried or nervous about talking to these guys since, as long as they read what I (she) wrote and looked at my pictures, there will be no surprises. So onward and upward, online dating here I come!
I will be posting about my adventures in online dating throughout the month. Maybe I'll meet a match and maybe not. Regardless, I intend to have fun and see what happens.
Stay tuned….
-Natasha