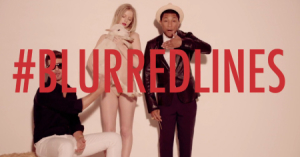 San Diego now EX-mayor, Bob Filner, was recently accused of sexual harassment by a former employee. She claims that the advances had been going on for months and ultimately escalated to him putting her in a headlock and whispering suggestively in her ear. But according to his statements, he did nothing wrong so when more of the details come to light he'll still believe his side of the story. In cases like this, that usually means that he thought the feelings were mutual.
This is where the question of love in the workplace gets skewed. Taking a cue from Robin Thicke's summer hit, "Blurred Lines", "I know you want it…go ahead and grab me"  is any sort of flirting at work acceptable? As our work weeks have gotten longer, the number of office romances have increased substantially. Without as much time for socializing outside the office, romances often happen inside the cubicles. But what if you aren't receptive to the flirting? What if it's your boss making the moves? The Filner scandal forced him out of the office, but what if it's a co-worker and not a boss? What's a person to do?
The biggest problem is that most people who feel uncomfortable about a situation do nothing about it. In fact according to a 2008 poll 31% of women reported being harassed at work but 62% of those said they never filed a complaint or took action. This is a big issue. If you ever feel uncomfortable at work or someone makes an unwarranted pass you should always report it. Sometimes confronting the issue with the offending co-worker—or worse, boss— is that they can report YOU before you get the message to the higher ups. The best rule of thumb it just like like the terrorist ads of late: If you see something, say something.
But office romances are on the rise, especially with younger employees. It's been reported that 84% of employees 18-29 said they would date a coworker. 71% say they think workplace romance is a positive thing that improves performance and morale. While older generations still frown on office relationships, many more companies are softening their workplace romance policy. Many suspect it's because the loyalty to a company has weakened in the millennial generation who think that if things go sour, they'll just hop to another job.
Or, take the case at multi-million dollar car company Chrysler where it's more common for women being subjected to lewd comments and having to bite their tongue NOT to get fired or getting pigeon-holed as "too uptight." In 1999 the first female millwright in the Chrysler plant (a notorious boys club) won a whopping $21 million for being subject to lewd pictures. Unfortunately and shockingly enough, the Supreme Court of my home state of Michigan threw it out in 2004 saying it was "clearly the product of passion and prejudice."
What if a celebrity is your employer? Say Arnold Swarzenegger perhaps. In Arnold's case, an affair was going on for years with his nanny under the nose of his wife. When the accusations came flooding in about the other women he worked with who were afraid to say anything when he made advances everyone wondering if these women were too afraid to say something when it happened or was it that they found it exciting to get attention from an A-lister. Regardless of the accusers' reasoning, Arnold was in the wrong and an employee has every right to work in a sex-free zone.
Flirting can often be misconstrued for interest. Married co-workers often see each other more than their spouses, creating a bond that doesn't happen where it should—home. This can lead to infidelity, affairs and a whole slough of other issues that can only be deemed inappropriate during work hours. My take on office romances is to stay away. Keep work and love as separate as possible, since you only see that person during the day, you have no idea what they're like at night or in the morning when they first wake up.
Sometimes two single people meet in the office and actually strike up an attraction. When this happens it's best to go to your superiors right way and notify them or your status. Rumors fly fast around work and some brown-noser or enemy out to get you could have bad intentions for your newfound partnership. Prevent that from happening by discussing the situation, and all aspects of cause and effect, with your love interest. If you both want to keep pursuing the relationship after listing the pros and cons of dating a workmate, then hats off to you! But if you both see problems ahead, it might not be worth the agony, stares and unwanted attention.
From flirting to relationships to full-on sexual harassment, there are many things to consider when it comes to workplace sexuality. You always have the right to choose who you want to be with and when to say no, so never forget that. But if a situation arises where you are left feeling ashamed, uncomfortable or worried for your job due to unsolicited attention, get the problem handled immediately. If someone doesn't believe you or blows off your allegations, go to the person above them. If the Filner scandal taught us anything, it's that it doesn't matter who you are, where you work or what you do—no always means no.