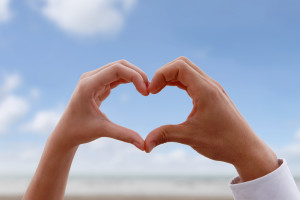 The holidays can bring up a lot of feelings that are uncomfortable.  From having to explain to your auntie why you didn't bring anyone over for Thanksgiving again this year to worries about who you'll kiss when the ball drops on New Year's Eve, it's easy to focus on what you're missing right now.  But what would happen if you focused on the many wonderful things you have in your life to be grateful for? The laws of attraction state that if you focus on abundance, you will continue to draw more abundance into your life.  So conversely, if you're focusing on the things you don't have—like that dream relationship—you'll continue to draw in what you don't want.
I have a Thanksgiving challenge for you—start a gratitude journal.  If you think this sounds touchy feely – you're right!  Tapping into your feelings might be what you're missing in your search for a mate.
Here's how it works: Set aside 1 minute, 10 minutes or however long you'd like to record (ideally in old-fashioned handwriting) exactly what you are grateful for in your life. You could write a word, a paragraph, or a novel, but it's important to take time each day to remember the things that bring you joy.  It might take a week, it could take a month, but if you commit to expressing gratitude and focusing on abundance you will notice a shift in how you feel, you'll start to see more positives than negatives, and you're likely to see your dating options improve.
Want more details on why gratitude works? Tune in to my radio show 'Dates & Mates' on my birthday, November 27th, for a perspective-shifting interview.  Also keep your eyes peeled in January for my 'Blueprint Your Breakthrough in Love'program which opens with a thought-provoking session on why Mind Over Matter Matters in Dating.