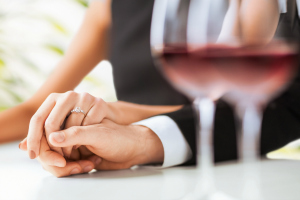 Did you know it was national Date Your Mate Month? That's right, during the month of May, we celebrate taking time out to spend with the one you've got. The month is almost over, but you still have just over a week to go all out.
Can you commit to doing something every night for the rest of this month with your mate? Now, before you say, "No, we're too busy" let me highlight a few things that will show you that you can. These "dates" that you go on do not need to be elaborate in any way. They don't even need to be long. They just need to be intentional. You and your mate need to consciously commit to spending time as just the two of you. You may NOT invite the kids! So, even if you've just decided to watch Scandal together without any interruptions, cuddled up on the couch, that counts!
If you just go grab a cup of coffee, make it special with a little active listening. Don't spend more time focused on what you have to say. Pay close attention and try to put yourself in their shoes. Active listening makes all the difference in making your mate feel heard. And when it's your turn to share, let him/her know that you value their input by actively listening to their feedback.
If you do get the chance to go out to dinner, be sure to make plenty of eye contact! Too often we look around watching what everyone else is doing or we keep checking the messages on our phones so often that we forget to be present with the person sitting right in front of us. Put everything else aside and lock eyes with your loved one.
Going for a walk? Hold hands, give each other compliments and voila it's a date! Let your mate know what you love about him/her. Don't just assume that they know. Let them hear it from your lips.
I could go on and on with simple date ideas, but what I want to point out is that it does not need to be about where you go or how much money you spend. It should be about making the conscious effort to prioritize your mate in your life. We all know that relationships need to be nurtured, but it is still so easy to lose sight of it along the way. So, take full advantage of Date Your Mate Month and put a little effort into wooing your mate all over again.