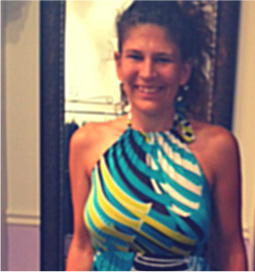 Elyse Bradshaw Seinfeld is a writer who divides her time between Long Island and New York City. She has a Bachelors Degree in Linguistics from Stony Brook University, a Masters degree in Higher Education Administration from the University of Massachusetts-Amherst and a PhD in Overcoming Obstacles from the School of Hard Knocks.
I got the chance to interview Elyse about her dating advice for singles:
Dear Mrs D: What's good first date etiquette?
Elyse Bradshaw Seinfeld: You should pay for the date if you were the one that asked him out, but if he asked you out, he should pay. Always answer questions honestly. Always be present and attentive towards your date. Don't look at your phone or think about your job, your friends, exes, or anything else. Give your date all of your attention and make him feel special.
What are the best places to meet men?
Men are everywhere. Restaurants, train stations, airports, bars, sports games, gyms. The best place to meet men is somewhere you feel confident, radiant, happy and doing something you like. (So, I guess if your hobbies are yoga and sewing then you should be a lesbian.)
Do you believe chivalry is still alive?
I have to say yes though I sometimes question the motives behind chivalry. Do they really care about my welfare or are they simply interested in getting in my pants? Of course I could try to test this by wearing sweatpants and see if I still get doors held open for me.
How has the dating game changed in the last decade?
I think that now it's okay for a girl to ask out a guy. I also think that women end up supporting the man and have become the primary bread-winner. Furthermore, I think that women are changing their attitude towards casual sex and sometimes like the idea of it and even seek it out.
How can a sexy singleton make herself available, but not too available?
I have a one day in advance rule. If I'm just getting to know someone, I won't say yes unless they give me at least one day notice.  I probably should make it three days but I'm a sucker for hotties. I figure that if someone really wants to see me then they will be willing to wait. I think that while dating is only one aspect of your life, it's also important to take care of the other aspects of your life: work, friends, and hobbies. By staying involved in all of those activities you will show that you are available, but not too overly eager to meet a significant other.
How can a women keep a man interested?
A woman should continue to be intriguing, interesting, kind, and most important—interested in him. A woman should give off good vibrations and energy. In addition, a woman should pay genuine compliments and show authentic interest in the man.
Miss Seinfeld is a tennis fanatic and a caring person. Stripper on the Loose is her first novel. 
For more information, please see her blog http://askmeelyse.blogspot.com or like her Facebook page at https://www.facebook.com/ElyseBradshawSeinfeld.