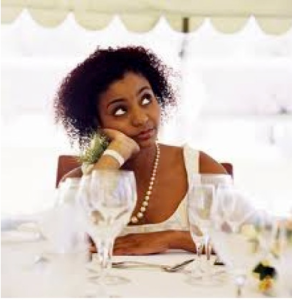 Another wedding season, another dateless wedding. Are you tired of being STINGLE (still single)? My newest Huffington Post article targets those women who are always the bridesmaid and never the bride—and what you can do about it!!
Here's an excerpt:
2. You're stuck in neutral: If you're still in a relationship with a man who claims he doesn't need a piece of paper to prove he loves you, stop pretending it doesn't bother you. If you decide, after watching all of your friends walk down the aisle, that you're ready for your turn to wear white, you need to know if your man is Mr. Right or Mr. Right Now. Don't spend eight years trying to figure it out or trying to change his mind.
3. You're not planning ahead: You know your BFF is going to get married before most of the guests do. That gives you a good six to 12 months to get off your arse and do something about it. Sign up for, not one, but TWO online dating sites. It's the equivalent of being in two bars at once without the hangover. Plus, online matches are shown to last longer than casual connections so your relationship is more likely to stand the test of time.
4. You're already married…to your job: You can't seem to find a couple of hours to go to a speed dating event but you can fly cross-country for a wedding to show your old friends how accomplished and successful you've become? If you want to turn your single into a double, make time for your new beau before he arrives. Mingling with other singles and setting aside a 'date night' — even if you don't have one yet — will get you and your boss used to the idea of work-life balance. If your suitor can't see you without an appointment, he certainly won't see a future with you either.
Read the entire article HERE!
If you're in the Los Angeles area and still need some quality help learning seduction, flirting and attraction techniques for both online and offline dating, sign up for THE LOVE OLYMPICS on September 28th 2013in Hollywood. This intensive bootcamp features my top-trained coaches, style experts and secrets to finding love with STINGLES just like you—with a Q & A and mixer afterwards.