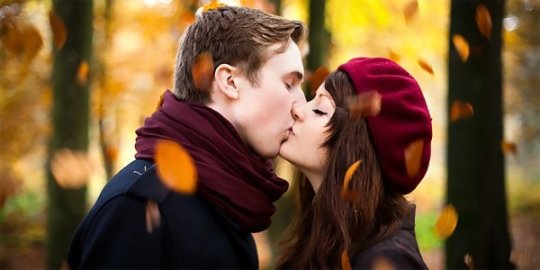 5 Fabulous Fall Date Ideas
The cool Fall air brings with it plenty of opportunities to venture outdoors or stay inside with your date. Here are 5 Fabulous Fall Date Ideas and the health and social benefits of each one.
Horseback Riding
You've probably seen it on an episode of "The Bachelorette." You too can have your dream date on the backs of horses! The brisk weather of Fall is the perfect time to take a leisurely gallup along the local trails before the winter cold rolls on in.  There's one stable I am familiar with that offer's special moonlit rides during full moons, making it extra magical for you and your special someone.
There are other health benefits of horseback riding that extend past just the romantic atmosphere. Considering horseback riding is an isometric exercise; the activity strengthens the rider's core and postural muscles, which are both very important in horseback riding. Along with the core and postural muscles; the inner thighs and pelvic muscles get the most substantial workout as the rider positions himself/herself. Horseback riding engages all muscles of the legs, arms, core, and back.
Riders have to tighten and relax muscles constantly to stay put in the saddle and on the horse. The core must engage to protect the spine and keep riders upright. The quads, hamstrings, and glutes all work in support of the rider. Riding also betters one's balance and coordination; as the challenge in balancing increases the faster and more quickly the horse moves. Rider's must develop coordination skills in order to stay balanced. This exercise helps with good overall muscle tone and flexibility.
Stay In and Cuddle
You don't have to go out to have a date.  With the rise of the tricked-out home theatres, online streaming of movies and TV shows; anyone can have a fabulous evening watching television in the privacy of their own home. With so many Fall premieres of exciting TV series' (one being my husband's show, "The Walking Dead," on AMC October 12th), you can have a great time staying in almost every night of the week!
Studies have shown that cuddling increases oxytocin levels in people; when this hormone flows freely, it fosters a peaceful and happy state of mind, helping us feel emotionally connected to whoever's the source of touch. Many of the oxytocin receptors are located in the brain's amygdala. Various studies have found that raising oxytocin levels can improve the reading of facial and facial recognition. Simple eye contact and a meaningful interaction can increase oxytocin's presence.
Oxytocin can also be increased by more simple acts, such as petting dogs, sharing a meal, and doing yoga. Without oxytocin people would not feel butterflies in their tummys, or the rush of affection when a loved one is in view, and we would not be able to trust others or have the desire to help others. In fact, it seems that most of what makes life great has to do with oxytocin.
Stargazing
When was the last time you visited the planetarium? In the 4th grade, I assume? Well, stargazing is back and sexier than ever.  Looking at the stars with a significant other provides two people with the perfect opportunity to get closer, talk more depth, and keep each other warm under a clear night sky. Be sure to stay away from artificial night lighting, street and security lighting. These types of light can make seeing planets, stars and galaxies difficult.
Learning about our galaxy and other far-reaching galaxies beyond our own is important in understanding how our world evolved, how it's constantly changing, and what the fate of our world will ultimately be. Star-gazing is also an interesting way to discuss other cultures and what the people of these varying cultures believe the Universe is, and what will be the result of life on planet Earth and within the entire galaxy.
This date is a perfect idea to encourage and spark conversation in a relaxed and non-demanding setting. Simply, just by sitting under the stars and talking about each other's hopes, dreams, fears, and aspirations is the ideal way to learn more about your love interest.
Haunted House
Visiting a haunted house (or going on a haunted hayride) can definitely get you and your date close to one another. Both fear and love release the endorphins needed to fall in love, all while screaming your head off.  Haunted houses provide an instant and very clear example of how stress affects people – a good test for a potential mate. Traditional theater, most of the time, requires delayed response time after the audience has already left the theater, discussing their feeling afterwards – either while exiting, at dinner, or before going to bed.
One of the main hormones released during scary and thrilling activities is dopamine. Haunted house are great at triggering the fight-or-flight response to experience the flood of adrenaline, endorphins, and dopamine, in a completely safe space. They deliver a subtle scare by triggering the senses with different sounds, visuals and smells. These senses are directly tied to our fear response and activate the physical reaction, but our brain has time to process the fact that these are not "real" threats. The natural high from the fight or flight response can feel great.
There are two kinds of stress: good stress and bad stress. Good stress is temporary, lasting a short amount of time. Haunted houses a good stressor; getting the heart pumping, the blood flowing, and circulating oxygen throughout the lungs. It's comparable to a short, yet intense workout. Your body thinks this short, controlled stress is alright, not harmful. As a matter of fact; having a little bit of stress makes people enjoy scary situations because it leaves them with a sense of confidence after it's all over.
Be A Good Sport
Being from a BIG10 town, I still have a deep love for Saturday afternoons in the Fall, when all eyes are on the game. Embrace this season's sports hysteria! Whether it's the NFL regular season, College Football, the MLB playoffs, or the start of the NBA or NHL seasons – Fall is when all sports are in season.  Sports will give you and your partner something to root for together.
Try tailgating at your local city's football team next home game, or at a cheaper college team nearby. Invite some friends to your spot in the parking lot to enjoy some hot dogs, hamburgers ribs, wings and grilled veggies.This will be the perfect opportunity to bring everyone together to introduce your special someone to your friends and family.
Interested in learning more about online dating? Check out the 6 Unhealthy Dating Habits you're probably making!
Be sure to listen to the Dates And Mates radio show, with host Damona Hoffman, every Wednesday at 11:00am PST on UBN Radio for more dating advice.