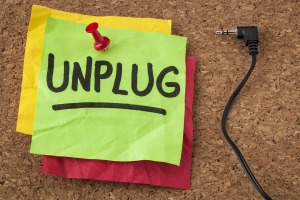 Some friends of mine began The National Day of Unplugging, which will be happening this year on March 6-7. It is a 24 hour period – running from sundown to sundown and it's an adaption of the Jewish Sabbath ritual of carving out one day per week to unwind, unplug, relax, reflect, get outdoors, and connect with loved ones.
In honor of National Day of Unplugging, It's time to disconnect!  According to a recent survey, 1 in 4 Americans becomes stressed by going longer than 30 minutes without checking their email or phone due to a fear of missing out. Also, 1 in 5 would prefer going to dinner with an ex-significant other rather than separate from technology for a month.
If you know me, you know that I always tell my online daters to get offline as quickly as possible. You're online to make the connection, but once that's been made, it's all about the face to face.
So, here are a 5 date ideas to get you going once you're off the grid:
1. Skydiving – I've never been, but it sure seems like it would be difficult to get distracted by social media while jumping out of a plane. Whether your endorphins are triggered by fear or love, the result will be the same – a bond and a memory that you both can remember forever.
2. Yoga – Whether doing partner yoga stretches or just lying mat to mat, you can connect deeply through yogic traditions. Author of Yoga + Love Vish Iyer made a recent appearance on my radio show "Dates & Mates" to give his tried and true tips on using yoga to find your soulmate. Be sure to check it out once you're back on the grid.
3. Game Night – What's better than inviting a few friends and that cute friend of a friend over for a cheeky game of Cards Against Humanity. Once you get started, you won't even want to check your phone. The biggest problem you'll have is being unable to use your phone to share contact information with your attractive, new acquaintance.
4. Go to a museum – Seeing which exhibit your date lingers over can tell you a lot about their interests.  Whether you visit an art museum, science center, or a madman's hall of oddities what is on display can give you a topic of conversation to break the ice when you're with someone new.
5. Picnic – Most of our day is spent indoors and the time that is spent outside we are usually buried in our cellphone trying to figure out directions or catch up on calls.  There's nothing more romantic than sitting with the earth and connecting to the person across from you in a meaningful way.
If you're really serious about taking more time to unplug, check out this other post of mine called "Unplugging from the Matrix" where I tell you about my own experience pf going off the grid.
Listen to Damona Hoffman live every Wednesday at 12 noon PT on her hit radio show Dates & Mates, on UBNRadio.
---