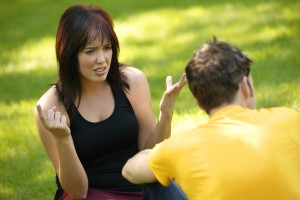 Online dating is becoming far more commonplace that we probably ever realized. As an online dating expert, I'm approached by women in their 40's and beyond that are interested in learning the online dating jungle. These modern dating applications and websites can honestly be very intimidating, and also risky for our "fine wine" demographics. It's important that someone educates you all on the ugly truths behind online dating after 40.
1.) AGE MATTERS IN ONLINE DATING:
The fact is that there are age cut-off points that most online daters tend to search by. The benchmarks generally happen in 5s and there are two big cut-offs at 40 and 50. I tell you the truth not to discourage you but to empower you. Because men might not be finding you if you are over 40,
I strongly suggest that you conduct your own searches and send messages to men that you would like to meet. Data shows that if a man is attracted to you, he will still write back, regardless of your age.
Women receive 3x the number of messages men receive so just by landing in his inbox you have a better chance at success than sitting around like the damsel in distress waiting to be saved by prince charming.
2.) WOMEN OVER 40 ARE THE BIGGEST TARGET FOR ONLINE PREDATORS:
If you are over 40, widowed, or divorced you are most likely to be targeted by someone looking to take your money online. However, if you are cautious online and look for the warning signs of online predators (which I outline in this article: Avoid Online Dating Scammers) you are less likely to be targeted.
Trust your gut.
If something or someone sounds suspicious, they probably are.
3.) YOU WILL BE JUDGED ON YOUR LOOKS:
No one likes to think of themselves being judged, but the reality is that you have about 3 seconds to make an initial impression online before your potential prince charming swipes to the next photo. This is why your primary picture is extremely important.
Your goal with that photo is to make him intrigued enough to click over to your profile to learn more.
Find out just what goes into a woman's perfect profile in my Dating Site Seduction System.
4.) EVERYONE SAYS THEY DON'T LOOK THEIR AGE:
When I'm asked the question, "Is it ok to lie about my age on my profile?" It's always followed up by the phrase, "I look and feel younger than my actual age." The perception is usually that men their age are old fuddy-duddies or that they will not attract someone unless they inch their age down a few rungs. If your relationship becomes serious, eventually you will have to tell your partner your real age which usually comes with the revelation that you LIED initially.
Since trust is the foundation of any relationship, it seems risky to me to start the relationship out on a lie.
I encourage you to embrace your age, your life experience, and the qualities you want in a mate without letting numbers get in the way of your happiness.
Still stuck with online dating? Let me lead you through creating the perfect profile, getting your flirt back, and dressing for the date in my video course The Dating Site Seduction System.