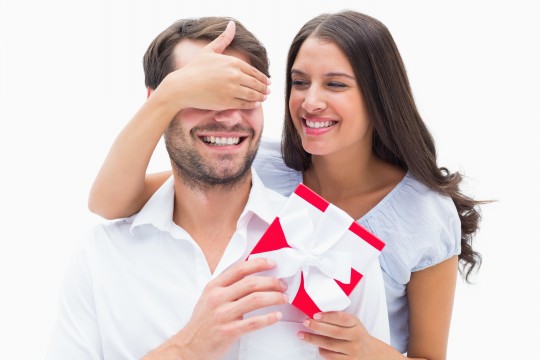 That experience of having a new love for the holiday that's all about love- that's priceless. While I'm genuinely excited for you, there's one subject that many fail to warn about: the process of picking an appropriate and ideal gift for your beau as you celebrate your first Valentine's Day together. It's very easy to pick something that could lead to disaster, so here's some great tips on how to avoid picking the wrong gift this holiday.
1. ) Electronics—These are not a sign of affection. Anything that plugs in, takes batteries or is powered by the sun, no matter how cool you may think it is, if it needs to be shut off during a flight it's too impersonal for the first gift-giving exchange in a new relationship.
2.) Jewelry—Dating and marriage are very different, and even the rules of giving back the ring after divorce are muddy.  So, why get caught up in the big expense of something that may or may not last in the long run? Diamonds are forever, but a new relationship may not be. Wait until a meaningful anniversary to give something shiny.
3.) Novelty Items—Even if Spencer's Gifts does see a huge influx of customers during the holidays, you don't have to be one of them. A black light poster, Snuggie or lava lamp (see No.1) may be cool in your crib, but anything that elicits a laugh may not be quite the reaction you were hoping for.
4.) Sexy Anything—Lingerie, silk boxers, and (heaven forbid) sex toys can and will send the wrong message. Especially from friends who ask what he got you for Christmas. Save the kinky stuff until you make it to Valentine's Day.
5.) Clothing—Unless you're a successful clothing designer you're still learning the style AND SIZE of your new mate. Instead, opt for something a little more tailored to their taste than to their waist.
6.) Cards—And I don't mean playing cards either (which would also make a terrible gift). While the simple act of giving a card is better than the dump-worthy gift of nothing, it's still not enough. If you have to give a card, make one yourself. Make it meaningful with photos or showcase your artistic side.
7.) Money—You laugh, but it's been done. Aside from it being kind of totally rude, it shows no originality, no emotion and is really, really lame. If you're that out of ideas to result to giving the gift of green, it may be time to get some professional help.
8.) Gift Certificates—Practical, necessary and sometimes thoughtful, gift certificates can be a great gift for co-workers, employees and handymen. For anyone you sleep next to, not so much. If you know where they like to shop get them something from there, not a blank check to take time out of their day to buy themselves a gift. This is a new relationship, not a "thank you for being my boyfriend."
9.) Booze—The gift of a nice bottle of wine or scotch may seem thoughtful but it's not. It's something you'll both probably crack open and drink together, which makes it more of a gift for both of you, and not your new beau alone.
10.) Housewares—There are more clever ways to tell your guy that his place is in serious need of a feminine touch.
11.) Artwork—Although artwork can be very sophisticated, it is much to subject to personal taste. Plus, if he doesn't like it, he can't escape the expectation of displaying it for the whole world to see.
12.) Nothing—Showing up empty handed is even worse than showing up with a dildo. Even if you're two weeks into a relationship, giving something is always better than nothing. So if you're stumped on what to get and are only coming up with items from this list, at least make sure it's something, not nothing.
If it's professional help you need, look no further! Listen to Damona Hoffman live every Wednesday at noon Pacific as she hosts her hit show Dates & Mates, only on UBNRadio.