I wasn't always an online dating expert. I once was a shy, single girl who bounced from online dating to mixers to speed dating events in hopes of meeting my future husband. It was often frustrating and humbling to put myself out there time and time again, but I finally ended up meeting my dream guy on a dating site, and I've been helping other singles meet their matches ever since.
Recently, I had the pleasure of attending a few Match.com Stir events. I spoke with many women and men about what they were looking for, what annoyed them and what was going through their heads when they came into a room full of people they didn't know. Through their experiences, and my own as a dating coach and former dater, here are some things to think about the next time you mix and mingle.
3 THINGS THAT WOMEN DO THAT MAKE MEN FRUSTRATED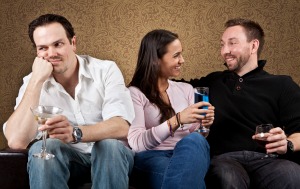 1. Showing up in a gaggle —This is the #1 thing that separates a good mixer from a bad one. Women tend to come to events with a girlfriend (or three) which is okay as long as you're not joined at the hip or seated together the whole time. You can talk to your girlfriends anywhere, but you're at a mixer to meet men. Even a quarterback would be intimidated to break through that defensive line. So if you can't fly solo (which is my recommendation) agree with your friend that you're going to split up for a good chunk of the party to see who else you two can meet.
2. Looking like you're going into a boardroom instead of a club — Keep in mind that men are visually stimulated. If you present yourself at a mixer like you're about to give a PowerPoint presentation, that's not a turn on. Take a sexy pair of shoes, a shorter skirt, or a trendier jacket to work if you don't have time to go home and change so he can tell you care about him to noticing you. Otherwise it might seem like you're too busy with work to get to know him.
3. Being rude after he's worked up the courage to talk to you – Women sometimes forget that guys have feelings too. If a man has worked up the courage to speak with you, please don't utter the words "ewww" or roll your eyes at him. Even if you're not interested you can learn something interesting from everyone. Treat him like a human, even if you don't want him to message you tomorrow so that you don't kill his self-esteem and chances of meeting someone else.
3 THINGS THAT WOMEN DO THAT DRIVE MEN WILD
1. Approaching them — I often debate my female clients about the line between being accessible and being aggressive. Most men will be impressed that you have the guts to talk to them first. It doesn't mean you're re-writing the laws of chivalry. Think of it as simply talking to someone new. If the sparks fly, you can let him take the lead from there.
2. Giving them the 'signals' — In spite of what you see in movies, men prefer a straightforward message rather than coy game-playing. If you like him, be sure to smile, touch his arm casually, get close to him to whisper in his ear over the music. Do not assume that he knows you like him unless you're being very clear. Acting snarky or sassy won't build chemistry with the right guy—kindness, compliments, and laughter will take you much further.
3. Being accessible – When women move around the event, they open themselves up to meeting new guys. Many times women run for the tables and plant themselves down so they don't have to feel awkward (or stand in the 4˝ heels that they shouldn't have worn.) If you move around every 20 to 30 minutes you might catch someone's eye who you didn't even know was there.
3 THINGS THAT MEN DO THAT PISS WOMEN OFF
1. Crowding around "The Hot Girl" — There's always one super hot woman at a mixer and each guy thinks that he's going to be the one she says 'yes' to. By all means, you should try to get her attention, but that doesn't mean ignore all the other women in the meantime. Physical attractiveness is only one factor in compatibility – see if there are women who have something interesting to say even if they aren't on Maxim's Hot 100 list.
2. Not talking if they don't feel immediate physical attraction — Based on my observations, the women at Stir events tend to be much more open to talking to guys whether they're interested or not. Men will sit back until they see someone sexy while ladies will fill the time with good conversation. You will have a better time (and so will the women) if you accept that you've already signed up and gotten yourself to the event—which is more than half the battle— so you might as well enjoy it.
3. Checking out their assets—Women can tell when you're talking to their breasts. You think they don't notice the up-down look but they do. If you're in conversation with her, try your hardest to make eye-contact. We all know where your mind tends to focus, but your eyes don't need to go there too.
3 THINGS THAT MEN DO THAT TURN WOMEN ON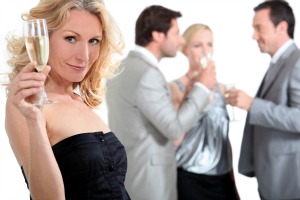 1. Approaching them in a casual manner – Most women like guys who take initiative, but this doesn't mean being aggressive. Avoid touching or grabbing her until she gives you a clear sign that the advance is going to be welcomed. Many times men get too physically forward with women and the ladies don't know how to say that they're uncomfortable. Stay causal in your approach, she will let you know if you can turn up the heat.
2. Dress up—I've seen guys show up at mixers in their casual clothes thinking it's okay to 'come as they are' but expecting the women to have their hair, makeup, and dress done right. In my observations, the men who wear a button down shirt, nice slacks, and clean shoes leave with the most interest. Many times these are not the buffest, handsomest, or wittiest guys either. Women appreciate effort and if guys bust your chops for dressing that way, you'll get the last laugh when the pretty girl is on your arm.
3. Being direct—I remember going to a mixer in my single days and being so impressed when a man I was talking to asked me out on a proper date within 15 minutes of our introduction. Clearly stating that you want to take her to dinner or on another 'official date' will get her attention. The norm has become, "We should hang out again," or "I'll message you" and never doing it, so even the slightest amount of clarity and follow-through can give you an edge.
The next time you get an invite to a mixer come with an open mind, an optimistic attitude and these new tools in your dating toolbox and can have a great time and make new connections. Navigating the singles mixer is an art that you can hone with each event you attend. So just like working out at the gym, when you keep motivated, consistent, and positive you get the results you're seeking. Do you have a secret technique that helps you meet new people or a question about how you can personally improve your game? Post it in the comments below! And don't forget to claim your free video "The 5 Online Dating Mistakes You're Making and How to Fix Them".
[sc:5-mistakes-promo-box]