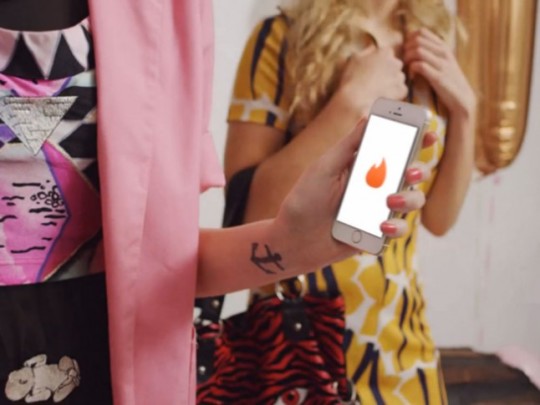 12 Fun Online Dating Trends
Are you looking to find love online? Having trouble navigating the Internet in finding the right website or app for the type of person you are looking to meet? Here are 12 of the freshest (and most fun) trends in online dating:
1. Tinder – Moments
Tinder is an online dating app that locates potential matches using GPS based on their proximity to you and Facebook information to create your profile (though Tinder will ever be post to your Facebook page). Tinder profiles are comprised of your first name, age, photos of your choice and any pages you've 'liked' on Facebook.
On June 5, Tinder introduced its new 'Moments' feature –  allowing users to share pictures with one another to 'connect in a more meaningful way.' This feature allows users to take a photo using the app which is then sent to all your matches. Matches view your 'moment' and can swipe left to 'dislike' or right to 'like', just as it is with general profiles. The sendee is then able to see who liked their moment and can start chatting with them based whoever 'liked' their 'moment.'
The Tinder app and 'Moments' function is perfect for real-time flirting and updating matches on your most recent activities.
2. Carrot
The new dating app, 'Carrot,' encourages users to flaunt incentives, such as meals, vacations, and jewelry to potential mates as a way to persuade them to go on a date.
The platform wholly embraces bribery as a legitimate dating strategy. The app's name is a homage to the commonly used phrase "dangle a carrot" — traditionally in front of a horse or some other laborer animal in order to get desired results.
Daters should use Carrot to attract those would-be mates would need require some coaxing to show face on your first.
3. Tastebuds x Moosify
Tastebuds.fm, the app that matches people based on their musical tastes, has recently found a match of its own. The London-based startup is set to acquire U.S. competitor Moosify, a mobile-first "social dating" app that also connects people around music. Terms of the deal remain undisclosed.
The Tastebuds and Moosify app collaboration will scan your phone's music library as the basis for constructing a music-centered profile – letting you 'ping' other users with similar musical tastes. In addition, like Tastebuds, moosify also supports Spotify with an app for the music streaming service.
If you take pride in your own (and also judge people based on their) musical preferences, then the Tastebuds app could be your next step to finding a truly compatible mate.
3. Grouper

Grouper's goal is to get you off the sofa and out on a real date – without the awkwardness of that initial one-on-one encounter.
After a simple sign up for the website, each new user must answer a few questions about themselves, let the company takes a look at your Facebook profile before they match you with someone with similar interests.
You then pick two wingmen or women to take along with you to the venue of your choice. Each person pre-pays a set amount to make sure that all involved show up. Once you're there, Grouper even buys the first round of drinks.
Daters should utilize the Grouper app to experience a real-life and enjoyable night out on the town with friends. Grouper is the perfect launchpad for an enjoyable evening and potential for a great start to a long-lasting relationship.
4. Hinge
Hinge is the dating app that only matches users who share Facebook friends. To get started, new users sign in using their Facebook profile and select their individual preferences, including location, sexual orientation and age (the age limit is 35). Every day at noon, the app sends users a list of potential matches extracted from one's own Facebook network. Male users who were interviewed said that the app encourages more socially accountable behavior.
Hinge is perfect for those who are wary of inauthentic persons or scammers on dating sites. By using Facebook to authenticate each potential date; Hinge provides the security in knowing that who you are talking to is in fact a real person.
5. 3nder
3nder is the mobile threesome hookup app thats open to singles and couples looking to find three-way love. 3nder website describes the app as:  "It's the easiest way to satisfy your human needs and spend some fun time with other people."
Much like other contemporary dating apps, the only way to make a profile on 3nder is to give the app permission to access your Facebook profile; 3nder never posts or shares your Facebook information.
Once you have a profile you add your desires, interests and choose your settings for potential matches. You set your radius (300 miles is the maximum distance currently)  The app has the same methodology at Tinder; you will only know if a user picked you, if you picked them also.
If you're single or in a relationship and looking to have a threesome; this is definitely the app for you!
6. OkCupid
OkCupid calls itself "the fastest-growing online dating site," using user-generated responses and a math-based matching system to pair users with compatible dates. This process promises a high accuracy rate for compatible dates as long as users are honest.
OkCupid.com puts heavy emphases on member participation. Matches are identified by your profile and your responses to a series of fun questions generated by other OkCupid members. OkCupid also encourages user interaction using peculiar tests, like "The Personality Defect Test," "The Nerd? Geek? or Dork? Test," and "The Lover Style Profile Test."  These tests don't affect your match percentages, rather acting as an original and entertaining way to get to know potential dates.
For a legitimate "dating site experience" compacted into a easy-to-use mobile format, OkCupid could be your tool for locating that special someone.
7. Plenty Of Fish
Founded in 2003, POF is now one of the world's largest free dating sites with 32,000,000+ members, earning the title of #1 free dating site worldwide in 2011. Members use POF are to meet a variety of singles actively looking for friendships, casual dating, and serious relationships.
Though POF is free, it is a fully functional dating site with every feature you would expect from a costly dating site. Sign-up requires basic profile information about the user and what the user is looking for on POF. Initial signup questions include children, marital status, interests, smoking and drinking habits, religion, profession, income, family situation, relationship history, and more. Users then personalize their profiles with a headline, an essay description, and a list of interests. An optional essay on first dates is also available.
The most interesting and fun part of the POF profile is the Relationship Chemistry Predictor; making the matching process fun with several questionnaires designed to assess compatibility. The Relationship Chemistry Predictor poses 73 statements about the user and the user's personality, to which you must indicate whether you "Disagree," "Somewhat Disagree," "Somewhat Agree," or "Agree." The test measures five broad dimensions of personality, then users your responses to match you with other members who have taken the same test.
Users also have the option of taking the "Relationship Needs Assessment," which determines your known and hidden needs in a relationship. When the assessment is completed, you are presented with an action plan of questions and topics to communicate effectively with your matches. Other questionnaires include "Is Your Love Interest A Keeper?," a "Psychological Assessment," and "The Sex Test."
POF is fun, ever-changing and filled with people from all-around the world. If you believe that assessments and calculated dating proves better for finding a great date, be sure to give POF a try!
8. Cupidtino

Cupidtino, which launched its online dating service for Apple fanboys and girls in 2010, expanded with a iPhone app that has been described as the "first-ever Mac-inspired dating app designed exclusively for fans of Apple products." TechCrunch just wrote about the new app too.
"Die-hard Mac and Apple fans often have a lot in com­mon — per­son­al­i­ties, cre­ative pro­fes­sions, a sim­i­lar sense of style and aes­thet­ics, taste, and a love for tech​nol​ogy. As Apple fans we love to hang out in cafés with our Mac­books and iPhones. Part of what we pay for is a chance to run into another geek who's just as much into pho­tog­ra­phy, design, Net­flix, hybrids, the BBC, HTML5, polar bears, Wired, Whole Foods, Cold­play and Angry Birds as we are. Cupidtino is like that neigh­bor­hood café where the peo­ple are hip, decor is classy, con­ver­sa­tion is intel­li­gent and prices are rea­son­able. But it's open at your con­ve­nience, folks are from around the world, and it's less awk­ward to talk to someone."
Cupidtino boasts 31,000 members (both paid and free), and as you can imagine Seattle is not in the top cities. (Top cities include: Los Angeles, San Francisco, New York City, Chicago, Moscow, London and Toronto).
Can't live without your fully charged iPad, MacBook, iPhone, iPod, or iWatch? Try Cupidtino and maybe you'll get yourself an iDate, iWife or iMan.
9. Geek 2 Geek
Geek 2 Geek boasts itself as "the best place on the net to meet geeks,"with 200,000+ members worldwide, and growing by about 6000 members each month. The three levels of membership — free, "silver," and "gold"– allows different levels of communication between users. While a free membership lets you browse unlimited profiles and receive unlimited messages, you can't send any messages to other users (except to paid gold members) until you upgrade to at least a silver account.
Geek 2 Geek also has a matchmaking service. Signing up is quick and easy; you don't have to answer all of the questions immediately, though users can if they want. A profile picture is also not a requirement. Matchmaking questions include: "Type of sense of humor," to "areas of interest," and similar geeks are delivered to your "My Matches" inbox. It helps, of course, that the "areas of interest" are all geek-oriented, and include options like "online gaming," "Star Trek," "Tolkien," and "Monty Python."
If you are a self-proclaimed geek, that has recent difficulty in finding a date, the Geek 2 Geek app may be your chance at unrequited love.
10. SaladMatch
If you're a vegetarian, vegan or just a healthy eater looking for love, the SaladMatch app may be worth a try. Although it's not exactly a "fitness app," it's a dating app for people who are looking to share someone their healthy lifestyle with.
SaladMatch is the new online dating site from the makers of Just Salad – a yummy salad restaurant in NYC. Find your true love based on your salad preferences. Users locate their potential matches by choosing their type of salad (vegan, chef designed, gluten free, etc) and nearest Just Salad/NYC location.
Salad lovers in NYC: If you've had trouble finding love between the quinoa and kales isles, try SaladMatch, it's definitely worth a try.
12. eVow
The guys behind POF announced that they were planning on launching "eVow," a paid dating site geared only towards those looking for long term relationships because, what made POF the most popular dating site in the world was  because it's free; casual daters flock to the site, looking for a free way to find a fling. The eVow site states: "Our sign up process ensures that only people looking for a committed relationship will make it through our filters!"
Looking to find true love with intent of getting married? Want to avoid all the filth of those seeking quick flings and easy hook-ups? eVow may be your ticket to the alter.
Be sure to listen to the Dates And Mates radio show, with host Damona Hoffman, every Wednesday at 11:00am PST on UBN Radio for more dating advice.