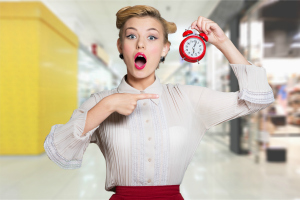 Most of my clients don't believe me when I tell them to keep that first date under one hour. I don't set these limits because I'm trying to keep people from getting to know one another. It's actually the complete opposite. Everything that you need to know about your date, you will learn in one hour.
Maya Angelou said (and Oprah has adopted it as her own) that when people show you who they are, you should believe them. And nothing could ring more true than on a first date. There's a theory that you will learn everything you need to know about someone in the first 15 seconds of meeting them. From whether they value their job more than inter-personal relationships ("I'm just so busy at work I can't believe I'm making time for this date.") to their past relationships ("My ex always hated this place."), to whether they are crazy or not ("How do you feel about pet rats?") People will reveal who they are and what they want without even realizing it—all you have to do is listen. And you've got one hour to do it in.
The sole purpose of a first date with JUST DRINKS (coffee, tea, TWO cocktails tops, etc) is to get in and out as quickly as possible so you can move to a second date where the anxiety and interview-ish type feelings of meeting someone new are over and done with. From there you can comfortably decide whether you want to see this person again or not. Not whether they'd be good in bed or if what color dresses your bridesmaids will wear. The point of meeting someone once, is to hopefully see them again. But only if you decide you want to.
In one hour you can determine whether you are attracted, stimulated, or interested enough to talk to this person ever again. That's all a first date is. It's not about sharing a meal or getting drunk, and it's especially not about hopping into bed. It's a test to gauge your interest and connection with one another, which you can aptly decide in all of one hour. You don't need to hear about the exes, or get wasted only to end up revealing too much (both mentally and physically) about your past, you're going on a date to meet someone new. It's the Dating Power Hour.
Meeting that special someone is an experiment in first dates. And since you'll have a helluva lots more first dates than you will fifth and sixth ones, remember to look at each one as a lesson. What did you learn, what do you want to learn, and what can you do with the information? Instead of thinking about how bad or how terrible something is going, or is about to go, focus on the positive. Show up with your body and use your mind second. If you go in thinking that it's going to be fun to meet someone new, it will be! So get your head in the game and your heart will catch up later. Not the other way around.
And yes, that all happens within one hour.
To solve these dating dilemmas and more join Dating Expert Damona Hoffman and 19 top modern dating experts for a free online event, The S.M.A.R.T. Speaker Series: Decoding Your Modern Dating Dilemmas -starting June 19th. Click here to register for free.